Project consortium:
Viesoji Istaiga Vilniaus Jeruzales Darbo Rinkos Mokymo Centras, Lithuania
Lietuvos vežėjų sąjunga, Lithuania
Kvalifikaciju Ir Profesinio Mokymo Pletros Centras, Lithuania
Nodibinājums "Smart Minds", Latvia
Inercia Digital SL, Spain
Fundacja Centrum Umiejętności Praktycznych, Poland
Project duration: 01.12.2021 – 31.05.2023
All planned project results are focused only on the Transport sector, however, we will create them universal: both the planned methodology (R1) and the planned training material for assessors of work-related competencies (R3) will be universal and almost effortlessly adapted in each EU country in any in the country's economic sector. Only the descriptions of qualifications acquired in the transport sector (R2) will be exclusively for the transport sector. These descriptions will be better adapted to the Lithuanian situation, but will be easily adapted in each EU country, as the qualifications framework operating in all countries is based on the European Qualifications Framework, and the job descriptions valid in all countries are based on the same ISCO-88 occupational classification. The direct target group of the project is people working in the Transport sector.
PROJECT NEWS – 2021.12.17
On December 17, 2021 there was a first project meeting. Partners discussed about planned results and all activities, which should be performed within the project.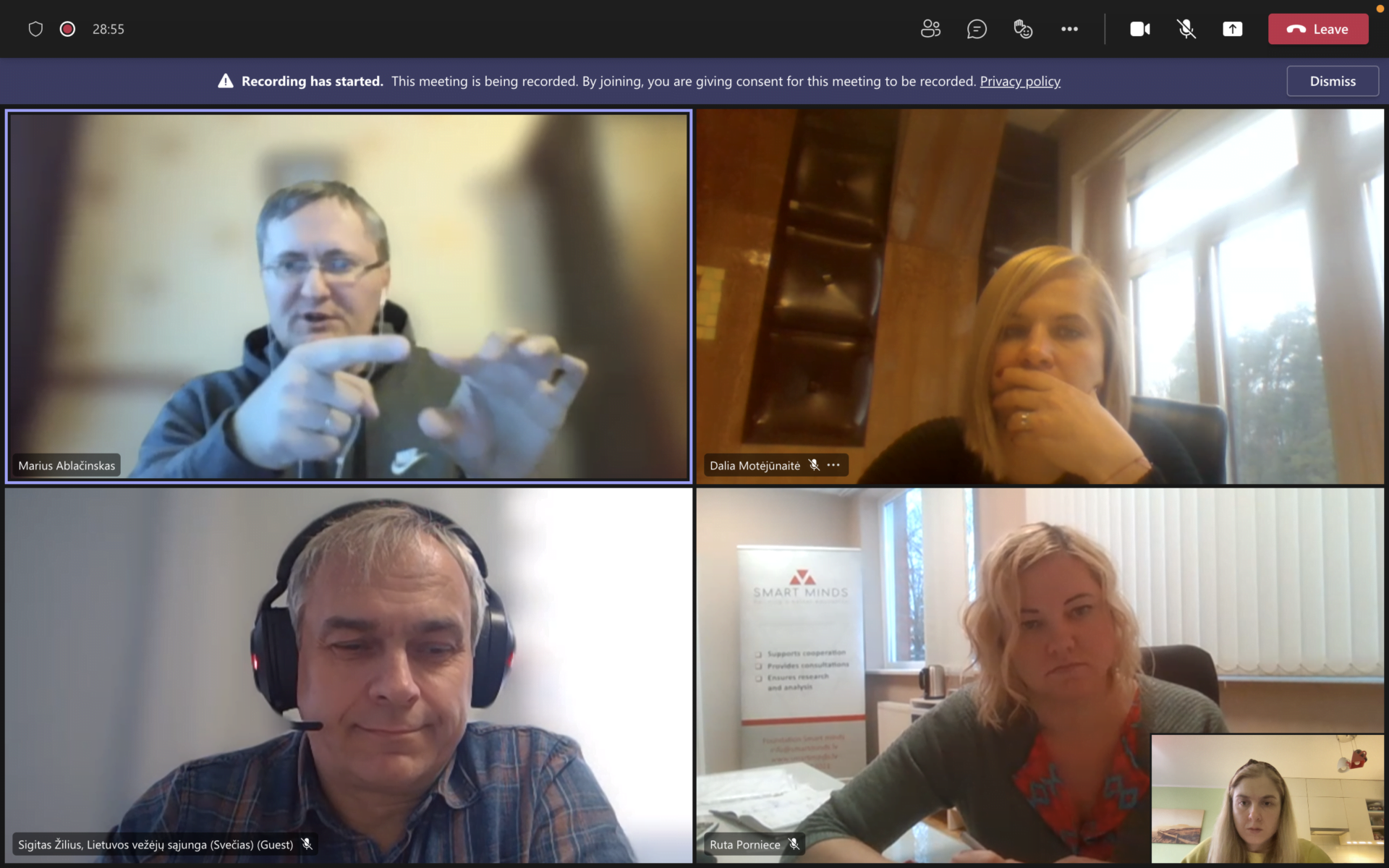 PROJECT NEWS – 2022.01.17
On January 17, 2022 we organised dissemination meeting with seven vocational students and one vocational teachers from Daugavpils Technical School. We presented report containing the current trends in food logistics and planned training program. We invite to use knowledge and experience, which we collected in our consortium.
PROJECT NEWS – 2022.02.10
On February 10, 2022 took place next project meeting in online formula. All partners discussed about first project result, which is methodology for assessment and recognition of competencies acquired in work activities. All partners divided tasks in field of preparation of set of descriptions of competencies / qualifications acquired in work in the transport sector, covering the 5 following professions: long-distance driver, freight forwarder, logistics specialist, warehouse worker, customs broker. Practical Skills Center Foundation will be responsible for preparation of description within freight forwarder. We invite cooperating companies, working in transport sector to share with us your experience and knowledge, to make project more useful and effective.
PROJECT NEWS – 2022.10.27
On 27th October, 2022 took place a project partners meeting in Huelva (Spain). All partners have discussed about next project steps and have presented all results which are already developed. The another important part of the meeting was disscusion about results dissemination. The meeting was very successful and productive, and projects works are going as it was scheduled in project application.